Secure power and cooling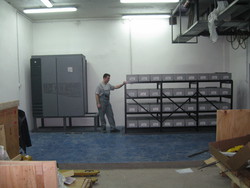 Industrial application - 500kVA 8min
For 14 years, Fibernet Secure Power & Cooling business division is designing and maintaining secure power and cooling solutions in the region. We are specialised for:
UPS systems: AC and -48VDC systems
Voltage stabilizers up to 5MVA
Diesel generators
Static and mechanical source transfer switches
Precise cooling: inroom and inrow cooling
Our service field engineers are trainned and have certificates from MGE UPS systems, APC by Schneider Electric, EATON, ELTEK, SDMO, AKSA, ORTEA and STULZ.
We offer also integration of all power equipment, from transformer station to the end load, on turnkey basis together with installation, cabling, commissioning and project documentation.
For more information, you can contact Secure Power & Cooling business service manager, Mr. Ales ERMAN, ales.erman (at) fibernet.si