Solar power plant in Croatia, Buje is presented in international magazine Sun&Wind Energy
Monday, 21 July 2014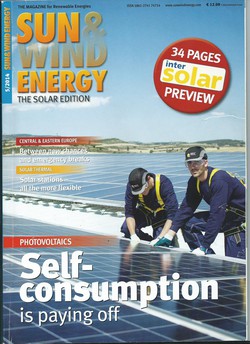 Sun&Wind Energy
Solar power plant in Buje, Republic of Croatia, which has been successfuly constructed by Fibernet Solar, has been presented in international magazine Sun&Wind Energy. Solar power plant is presented in focus region where magazine took a special look at the countries of Central & Eastern Europe.
You can read an article here, pages 18-19.
Solar power plant in Buje has installed power of 540kWp in area of about 8000m2. Solar panels are installed on metal construction of greenhouse where oil tree seeds are to be planted. Solar power plant Buje is largest integrated solar power plant in Istria.